Welcome to Kitchener Ford, where your electric vehicle (EV) dreams come to life! We're proud to be your go-to destination for all things EV, where cutting-edge technology meets sustainable driving. Whether you're a seasoned EV enthusiast or just beginning to explore the world of electric mobility, we've got you covered.
Our knowledgeable and friendly staff are here to guide you through the exciting world of EVs. We'll answer your questions, provide detailed information about charging infrastructure, and help you choose the perfect EV that aligns with your lifestyle. We understand that going electric is not just about a car; it's about embracing a cleaner, smarter, and more sustainable way of getting around.
Which EV is Right for You?
BEVs, HEVs, & PHEVs: Choosing the Right EV for You
What's the difference between HEV, PHEV and BEV? What about winter performance? Discover the answers to these questions and more, including range capability, finding public charging stations on-the-go, and at-home charging solutions.
Battery Electric
Battery electric vehicles (BEV) are powered completely by a rechargeable battery, so you'll never need a drop of gas or an oil change. All you have to do is plug in, recharge, and go.
Hybrid Electric
Hybrid Electric Vehicles (HEV) use a battery and gas engine to optimize fuel efficiency and performance. They don't need to be plugged in because regenerative braking and the gas engine recharge the battery pack.
Plug-In Hybrid Electric
Plug-in hybrid electric vehicles (PHEV) are also powered by both battery and gas, using the battery first and switching to the gas engine once the battery is depleted, giving you the best of both worlds.
Discover the EV Line-up
Whether you drive a little or a lot, there's an EV that's right for you
F-150 Lightning
All Electric.
All Truck.
Mustang Mach-E
All Electric. All SUV.
All Exhilarating.
Some more advantages of owning an EV
EV Incentives & Rebates
Up to $5000 rebate through the federal government's iZEV Program.
Low Maintenance
All-electric vehicles require significantly less regular maintenance than gas-powered vehicles
Charge at Home
Charge at home, work, or one of the many growing number of public charging stations.
Fun to Drive
Electric motors create smooth but instant torque and acceleration, making for a quiet yet exciting ride.
Public Charging
The BlueOval™ Charge Network is the largest public charging network in North America. Get access to thousands of charging locations while away from home.
Charge at Home
Get home in the evening. Plug in. Wake up to a Ford EV that's ready for your average commute. Once you get in the routine, it's hard to imagine driving any other way.
The BlueOval™ Charge Network: Power on the Go
What is the BlueOval™ Charge Network?
The BlueOval™ Charge Network is the largest public EV charging network in North America offered by automotive manufacturers. It provides easy pay-as-you-go access to an ever-growing network of thousands of public EV charging stations all managed through a single app – FordPass. Current network partners include ChargePoint Network, FLO,  Shell ReCharge, SemaCharge Network, and Circuit électrique/Electric Circuit.
Find Public EV Charging Stations
Discover nearby public EV charging stations or find the most convenient stations along your route.
What are the Benefits?
Enjoy complimentary access to the BlueOval™ Charge Network for three years* and later pay for your subscription and charging sessions through your Ford Canada Account. The BlueOval™ Charge Network makes on-the-go charging easy by allowing you to access, manage, and pay for EV charging within North America's largest public charging network through one app – FordPass. The FordPass app will display all nearby EV charging stations, and you can select your preferred in-network station for the easiest charging experience.
Ford EV Owners to Access Tesla Superchargers in 2025
Exciting news: Ford EV owners will soon enjoy access to Tesla Superchargers, marking a significant step towards a more integrated and convenient charging network.
Think of "range" as the "distance to empty" indicator you would see in a gas-powered vehicle. The charge an EV's battery holds is comparable to the size of a conventional vehicle's fuel tank.
Does Speed Affect EV Range?
High speeds have a negative effect on an EV's range, but heavy-footed acceleration affects it even more. Moderate acceleration helps get more from every charge.
Does Temperature Affect EV Range?
Outside temperatures have an impact. But here's a trick for EV drivers: "precondition" the vehicle* while plugged in. It uses your home's energy to pre-heat or pre-cool your vehicle's interior – not the battery. Easily pre-program your preconditioning times, based on your schedule.
*Effectiveness of cabin conditioning may be reduced by extreme outside temperatures.
Can Towing Affect EV Range?
Can You Tow With an EV? With an F-150® Lightning®, you bet. However, just like with a gas engine, towing will impact range. Because trailers naturally add weight and aerodynamic drag. So, plan ahead. Find public charging locations along your route, right from your touchscreen with Ford Power My Trip.
Tips on Maximizing EV Range
Best Practices for the Best Range
From setting a charging schedule for your vehicle to avoiding routes with stop-and-go-traffic, there are a number of easy steps you can take to maximize your EV's range.
Preconditioning Your Battery
Ensure your EV works smarter, not harder, by pre-heating or pre-cooling your vehicle's interior and battery before you start your trip.
Available Ford Intelligent Range
Available for all of Ford's battery-electric vehicles, Intelligent Range can provide fast and easy range estimates to help you better plan your journey.
Leaving EV Myths in the Dust
Questions about EV performance and capability? See how Ford battery electric vehicles zap the myths.
Electric Exhilaration
Think battery electric vehicles and speed don't mix? Ford EVs beg to differ – see for yourself.
Electric Vehicle vs. Winter Conditions
What happens when an all-electric vehicle meets the extreme conditions of a punishing snow and cold temperature test?
All-Electric Towing Capability
An electric vehicle that's Built Ford Tough? You bet. Watch the prototype tow more than 1 million pounds (over 453592 kilograms).
F-150 Lightning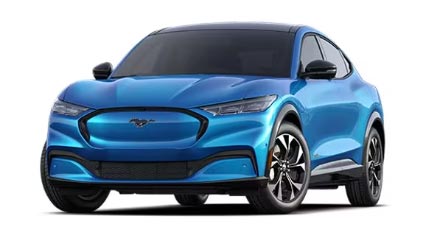 Mustang Mach-E
Escape Plug-in Hybrid
Escape ST-Line Elite
Maverick Hybrid
F-150 (Hybrid Available)
Explorer Limited
E-Transit
Ready to Schedule an EV Test Drive?
See what it's like to get behind the wheel of a Ford electric vehicle with expert help from our dealership.
Frequently Asked Questions
Depending on the type of EV you have, you have different options for charging at home.
Charge time depends on whether you are using the Ford Mobile Power Cord or the Ford Connected Charge Station. We always recommend you give your vehicle battery ample time to charge and suggest overnight charging, when possible.
Ford Motor Company of Canada offers an 8 year or 160 000 kilometres (whichever occurs first) warranty coverage for components unique to hybrid vehicles found to be defective in factory-supplied materials or workmanship.
Warranty expiration is based on time or mileage, whichever occurs first. Refer to your Warranty Guide on the Ford website for additional information.
Note: Loss of battery capacity resulting from gradual capacity loss is not covered under the New Vehicle Limited Warranty. See your Owner's Manual for important tips on how to maximize the life and capacity of the high voltage battery.
Mach E- everything but GT, Lighting XLT - standard range and Pro models.
Specific Lighting models with a specific tire set. Vehicles with a GVWR greater than 3,856 kilograms.
Extended Range Lighting come with Ford Charge Station Pro, customer have to pay for installation. Mach E and other trim levels can be ordered with mobile charging cord.
For Lightning models we recommend Ford Charge Station Pro, Connected Charge Stations are recommended for Mach-E and Plug in Hybrids.
Charger installs costs range greatly, starting at just a couple hundred dollars and going up form there. The age of the electrical system of your home is the main determining factory, please consult with an electrician to review your charger install costs.
EVENTS ARE COMING SOON...